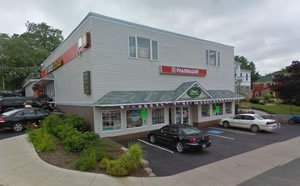 Stone's Drug Store was purchased in 2001 by Graham MacKenzie. Since that time we have renovated the Pharmacy both inside and out. Our final step in the renovation was completed in 2011 and included a brand new compounding lab, private counseling room and nursing home dispensing facilities. Our entire front store has been completely replaced from floor to ceiling. Our compounding service is the only one of its kind on Cape Breton Island.
We currently employ 4 pharmacists, 1 pharmacy tech and 4 assistants in the pharmacy and 15 more employees between the front shop and the offices. Stone's is in its seventh decade of serving Baddeck and central Cape Breton.
We support scores of local charities and events.
We welcome visitors from all over the world as a starting point for the world famous Cabot Trail and look forward to seeing you here on your next visit.
Store 1950's
Store 1970's
Store Today